INDOOR CLASSES IN DECEMBER 2021
Wednesday at 19:10 (indoors) – SYCT – 16 Wellfield Road, London SW16 2BP
on 01/12/2021; 15/12/2021 and
22/12/2021 – Special Christmas Class with Michael Gonzalez (Andale-Andale)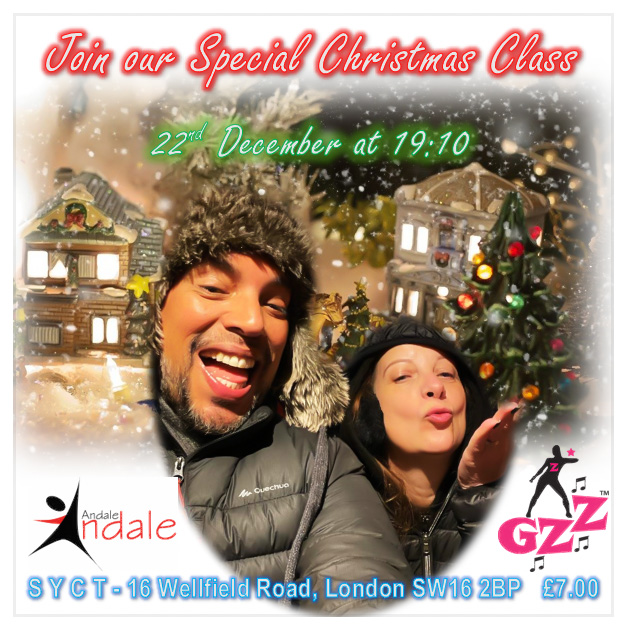 Saturday 10:30 (indoors) – Énergie Fitness Streatham – 121-127 Streatham High Road, London, UK, SW16 (membership required, contact the club directly for further info: 020 4509 9272)
THERE WILL BE NO SUNDAY'S CLASS IN DECEMBER IN TOOTING BEC ATHLTICS TRACK- WE WILL RESUME ON 9th J ANUARY 2022.
Sundays at 12:00 (outdoors & indoors) – Tooting Bec Athletics Track – Tooting Bec Road SW17 3NP
Classes are suitable for everybody and every body, all levels of fitness are accepted. This is a medium intensity level workout, which you can take at your own pace, we dance to Latin music and rhythms of the world. No previous experience is necessary, males and females over 18 are welcome. Please remember to bring water and a towel as it gets pretty sweaty.
Classes at the SYCT and at the Tooting Bec Athletics Track are £7.00 each, you will get a free class after any 4th class you take. Walk-ins are welcome, however it is recommended that you secure your spot by pre-paying your class either via PayPal or by pre-booking it through moveGB© as spaces are now limited and allocated on a first come first served basis. If it's your first time with us, please arrive early to complete the REGISTRATION / PAR-Q Forms prior to attending the class, alternatively you can submit your completed form via email to gloriazumbazin@gmail.com
N.B. Please ensure that you have filled in, signed and submitted the REGISTRATION form before joining the class. Failing to do so, will prevent you from joining the class.