INDOOR CLASSES IN JUNE 2022
25th JUNE 2022: Join in our Dance and Fitness Fundraising Day with Instructors from all over the world with one aim – to raise money for David's education through the joy of Dance. From salsa to belly dancing, street heat to barre, you will be treated to dance styles from all over the world and vibes. We will have 3 x90 minutes sessions at the following time (UK time) for 25th June:
9-10.30am (start CEST/CAT 10am, PDT 1am, CDT 3am, EDT 4am)
2-3.30pm (start CEST/CAT 3pm, PDT 6am, CDT 8am, EDT 9am)
6-7.30pm (start CEST/CAT 7pm, PDT 10am, CDT 12nn, EDT 1pm)

**How to take part?**
Drop me an email and I will add you to a mailing list – I will send out the joining details for ZOOM a week prior (18th June).Do click that you are interested and I will also pop the link over via fb.
**What will it cost?**
I'm a believer in inclusive fitness and cost should never be a barrier to movement and joy. Hence this event will be by donation – what you can, if you can. We appreciate your support in promoting, helping us to fundraise and just being with us. If you do want to donate or help collect for us, follow the links below to crowdfunder donation page or to the fb fundraiser page. If you like to send me by other means (bank transfer or PayPal) just pop me a message or email (DavidEducatinFund@hotmail.com).
Crowdfunder: https://www.crowdfunder.co.uk/p/dance-for-davids-education
**More about David and Phylo**David is the younger son of my Zumba sister Philomena who I got to know online. Phylo is an amazing woman – a single mother of 2 sons who survived cervical cancer in 2019/2020, an advocate for cancer survivors and women's health. Sadly her cancer returned in October and she has been sick since, recovering still from the damage to her kidneys from chemo which had to be stopped.I want to secure David's future and to take a load of Phylo's mind and heavy shoulder. I want to try do this through the joy of dance which brought Phylo and me together. I would like to invite everyone to join in, Thank you
Eric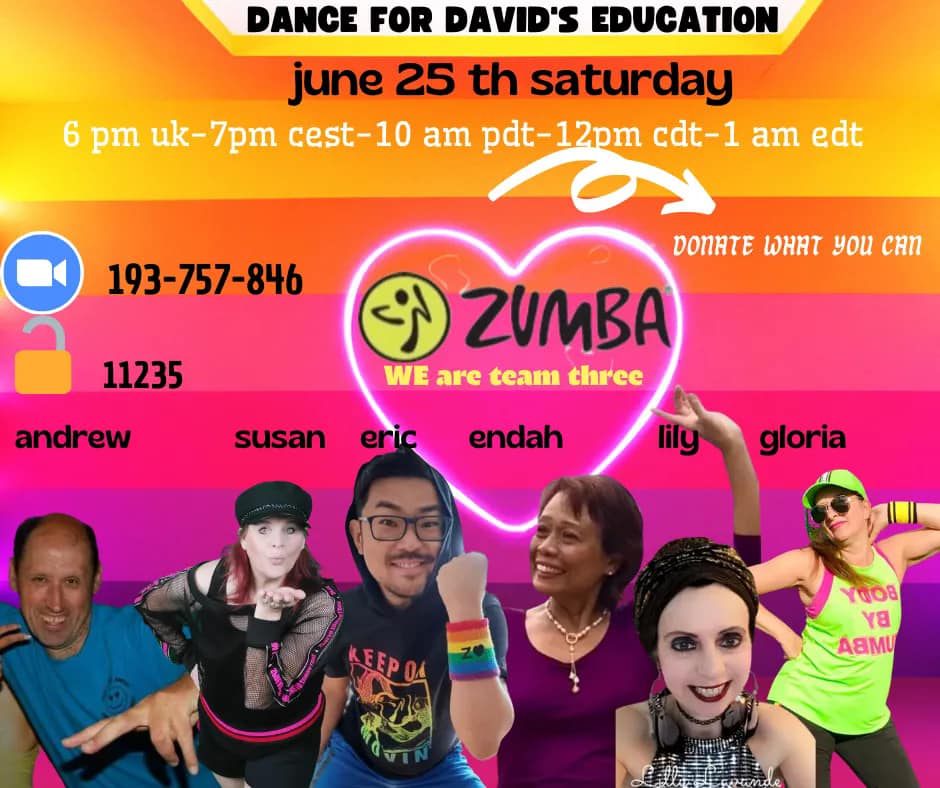 Tuesdays at 19:00 & Saturday at 12:00 (indoors) – Pure Gym London Streatham: 130-132 Streatham High Road, Streatham, LONDON SW16 1BW (membership required, contact the club directly for further info: +44 3444770005 )
Wednesday at 19:10 (indoors) – SYCT: 16 Wellfield Road, London SW16 2BP
Saturday 10:30 & alternate Mondays 19:00 (indoors) – Énergie Fitness Streatham: 121-127 Streatham High Road, London, UK, SW16 1HJ (membership required, contact the club directly for further info: 020 4509 9272)
Sundays at 12:00 (outdoors & indoors) – Tooting Bec Athletics Track: Tooting Bec Road SW17 3NP
Classes are suitable for everybody and every body, all levels of fitness are accepted. This is a medium intensity level workout, which you can take at your own pace, we dance to Latin music and rhythms of the world. No previous experience is necessary, males and females over 18 are welcome. Please remember to bring water and a towel as it gets pretty sweaty.
Classes at the SYCT and at the Tooting Bec Athletics Track are £8.00 each, you will get a free class after any 4th class you take. Walk-ins are welcome, however it is recommended that you secure your spot by pre-paying your class either via PayPal or by pre-booking either on this site or, for multiple bookings (maximum 10 people) click here: https://bookwhen.com/gloriazumbazin as spaces are limited and allocated on a first come first served basis. If it's your first time with us, please arrive early to complete the REGISTRATION / PAR-Q Forms prior to attending the class, alternatively you can submit your completed form via email to gloriazumbazin@gmail.com
N.B. Please ensure that you have filled in, signed and submitted the REGISTRATION form before joining the class. Failing to do so, will prevent you from joining the class.